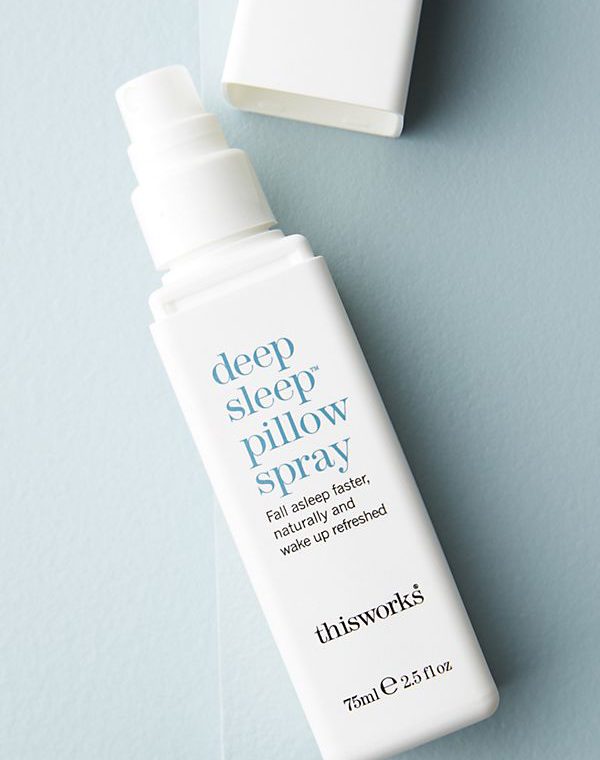 I know this sounds weird, but I'm always intrigued to see the things on people's nightstands. I don't know what it is, but I feel like the items say a lot about who the person is. To me, whatever you keep on your nightstand (whether it be books, lamps, creams, mists, and so on), should serve a purpose…because let's be real, nightstand real estate is pretty limited (at least in my case it is).
Below are the items on my nightstand that I can't live (or sleep) without.
What's On My Nightstand
This Works Deep Sleep Pillow Spray
I spritz this yummy lavender, vetiver, and chamomile spray on my pillow every night before I go to bed. The ingredients are proven to aid in sleep and fight anxiety, and I truly feel a difference if I don't use it. In fact, I love this stuff so much, I bring it with me when I travel too because it makes me feel like I'm at a spa which is incredibly relaxing before bed. I also love how yummy it makes my hair smell the next morning. The fact that it's free of toxic chemicals makes it even better.
A Himalayan Salt Lamp
I won this salt lamp at my white elephant party this year. While I don't know that I necessarily believe in what it can do (it's said to reduce stress, enhance performance, and increase blood and oxygen supply to the brain), I do know that I like the beautiful and natural glow it creates in our bedroom.
iPhone Charger
I know it's frowned upon to have your phone next to you while you sleep, but I'm just not there yet to move it out of the room or somewhere else. That said, I keep my trusty charger close by so that my phone charges overnight. Because I'm constantly on my phone during the day, it's important I keep it charged overnight.
Glossier Balm DotCom Lip Balm
There's nothing worse than chapped lips, right? I like to keep my lips hydrated overnight so that they're extra soft during the day. My favorite lip balm is super-moisturizing, smells incredible, and lasts forever – I literally wake up with soft lips in the morning when I apply it. Did I mention you can use it on chapped elbows, cuticles, and more? Oh, and the coconut one smells delicious.
A Good Book
There's nothing like reading a good book before bed. Whether it's something funny, thought-provoking, or dramatic, it's a great way to calm your mind before you catch some zzz's. Right now, I'm reading The Italian Party, but if you have any suggestions for something new, send it my way!
Hydroflask Water Bottle
I always find myself waking up thirsty in the middle of the night and find that I consistently crave iced cold water, too. These water bottles are the best – they keep water cold for what seems like days, and I love how easy the straw is to pop up. The stainless steel bottle can also keep things hot if that's your thing. It comes in just about every color on the spectrum, so pick your poison. I feel like I just drink more water when I use this bottle, which is always a pro.
Vicks Vapor Rub
This is embarrassing, but I can't leave this one out. I LOVE Vicks and have since I was a kid (I mean, this stuff has been around forever – how could it not work?!). Anytime I'm feeling congested or stuffy, I dab a little on my chest and wake up feeling great again. I also use it when I have achy muscles or a headache (just breathe it it or dab a little on your temples). They also have an nose inhaler that works great too and is less messy on the go.
What do you keep on your nightstand? Share it with me in the comment section below.
Facebook,
Twitter,
Pinterest