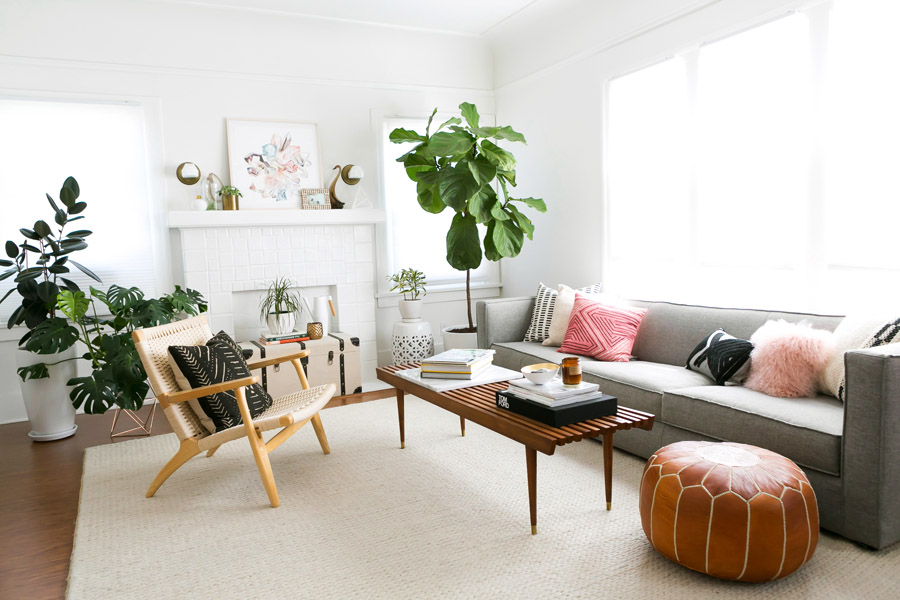 My Go-To Home Decor Sites & Stores
I've written before about how much fun Matt and I had creating a space we both love to live in. When we moved into our new place, we needed a ton of new furniture, which meant a lot of shopping on our end. We had to work together on a cohesive style and stick with a budget, but we did it (and we're still together, yay!). Throughout the process, I relied on the stores and sites below to make our space our own, and I am so happy with how everything turned out.
Below you'll find the home décor websites and stores we used to create our dream space.
There's a West Elm pretty close to our home, so I pop in pretty often as they seem to get new pieces in frequently. West Elm has great items for every room in the house, whether it's the bathroom, laundry room, or a bedroom. We got some amazing accent pieces and décor items here, and they were always on sale, which was an added bonus.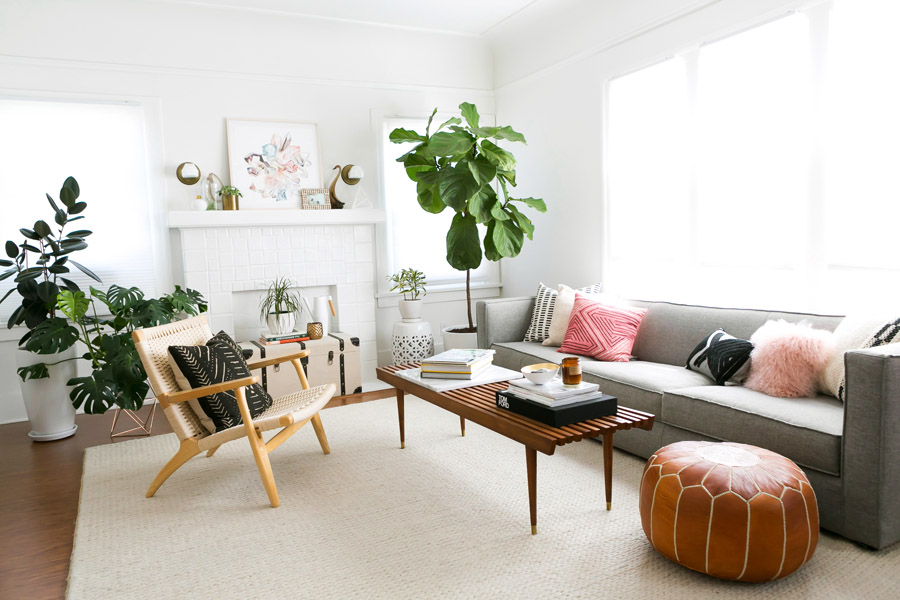 Amber's storefront is right by my parents' house, so every time I'm in the area, I stop by for a visit. Amber has the best textiles in the game – I love her handmade pillows and blankets and constantly find reasons why I need more for our home. She also has great gifts like flatware, coffee table books, candles, and more. If you're not in LA, her online shoppe (and Instagram account!!!) is just as good.
For modern, accessible home décor and accessories, I love nothing more than CB2. Their prices are fair and their pieces are incredibly well made. I especially love their accent pieces like side tables, desks, and chairs. They've withstood the test of time for us, and people are constantly asking where we found them. Right now, they have a collaboration with Goop and it's absolutely stunning. I want everything.
Joss & Main features amazing deals and discounts on really high-end items. I love that the pieces they sell truly seem found instead of mass produced. They also curate really cool weekly sales and collections so that it's easy to find something based on your own personal style and taste.
I'm not sure about the quality of Wayfair furniture, but I do love the site for rugs. They have a ton of different style rugs for amazing prices. I feel like this is the perfect place to buy a rug for a high-traffic area. That way, if it gets ruined, it's not the biggest deal.
Anthropologie has always been a favorite of mine. Their stores are so dreamy – I get so much home inspiration just by stepping inside. Their furniture is gorgeous (but expensive), so I often find myself picking up things like pillows, blankets, candles (they have incredibly holiday scents), and plates. I feel like Anthro's pieces have so much personality.
I've always loved Restoration Hardware for their high-quality yet simple pieces. Matt and I searched high and low for something that looked and felt similar to their Cloud Sofa, but nothing compared. We ended up splurging on one and I am so grateful we did. It's comfy, cool, relaxed, and also stylish, which I love. Although now that our puppy Kobe joined the family, I'm starting to question our decision for a white couch, ha.
I often find myself stopping by Nickey Kehoe for design inspiration, even when I know I'm not in the market for something new. Their LA-based design studio and boutique offers everything from handmade furniture to amazing vintage pieces and home accessories. Items are made in LA and found from around the world, meaning that every piece in the shop is incredibly thoughtful. I pick up smaller items like vases, candle holders, and ceramics to place around my home. I feel that incorporating these "found" items adds a really unique touch to my space.
For simple, understated luxury bedding and bath items, I love Parachute Home. They have a really awesome showroom in Venice, but if you're not local, they're online shop is always open. I love how soft and subtle their sheets and towels are. The best part? Parachute offers a 60-day trial on all bedding, so if you don't love what you purchase, you can send it right back.
Follow Lulu & Georgia on Instagram if you're looking for major design inspo. The site designs and curates the best and latest in interior design at an affordable price point, making it accessible for everyone. I love that they often feature cool collabs with design bloggers. I've found some incredible wall paper, rugs, and lighting pieces on Lulu & Georgia and everything has been extremely well made.
Serena & Lily pieces are the epitome of breezy, California style. Casual, coastal, and ultra-relaxed, I love how their pieces are classic with a bit of eclectic charm. Everything from their pillows to rugs to chairs feels welcoming and livable, which are two very important aspects in making a home a home. Their prices are definitely up there, but they often feature pretty amazing sales. Right now, they're having a 20% friends and family sale, so if you're looking to purchase something, I suggest you do it now (sale ends today).
Facebook,
Twitter,
Pinterest