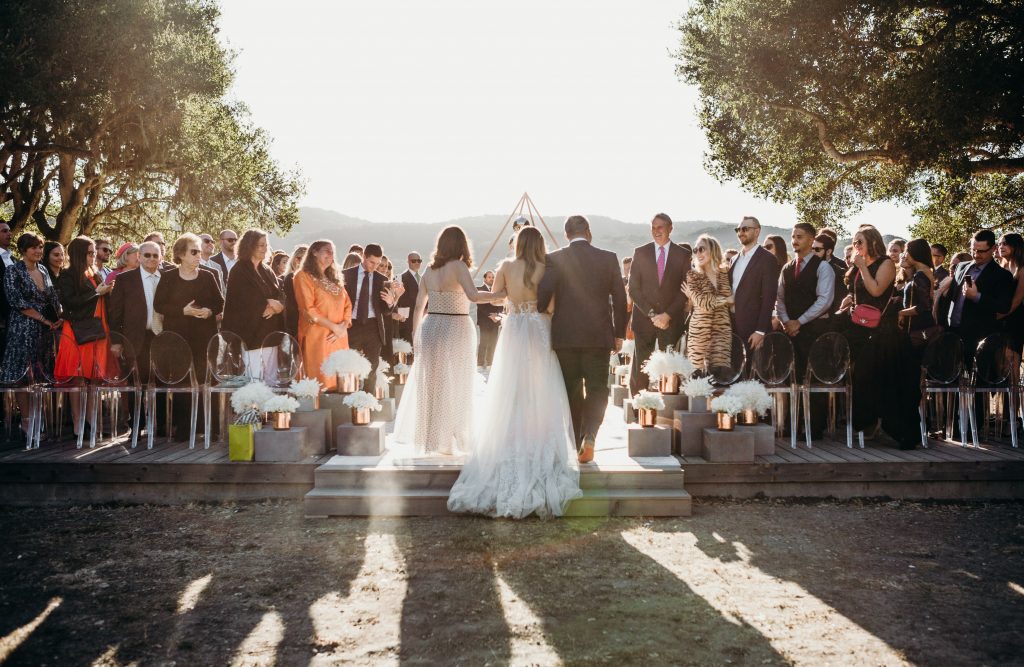 If you're new to this series here, this post is all things ceremony and party. You can catch up with the other posts on a general recap, the rehearsal dinner and welcome dinner after here, here and here.
The Ceremony
Let's start with the ceremony. The ceremony was by far the most magical moment of the entire day for me. It was romantic, understated and everything I could have hoped for in a wedding ceremony. Matt and I got married on top of a hill in Carmel, California at Carmel Valley Ranch hotel and it has the most beautiful view from there. When you get to the top, it is so remote that it is perfectly quiet and peaceful which is so representative of how a relationship should feel to someone — or at least how I want mine to feel to me.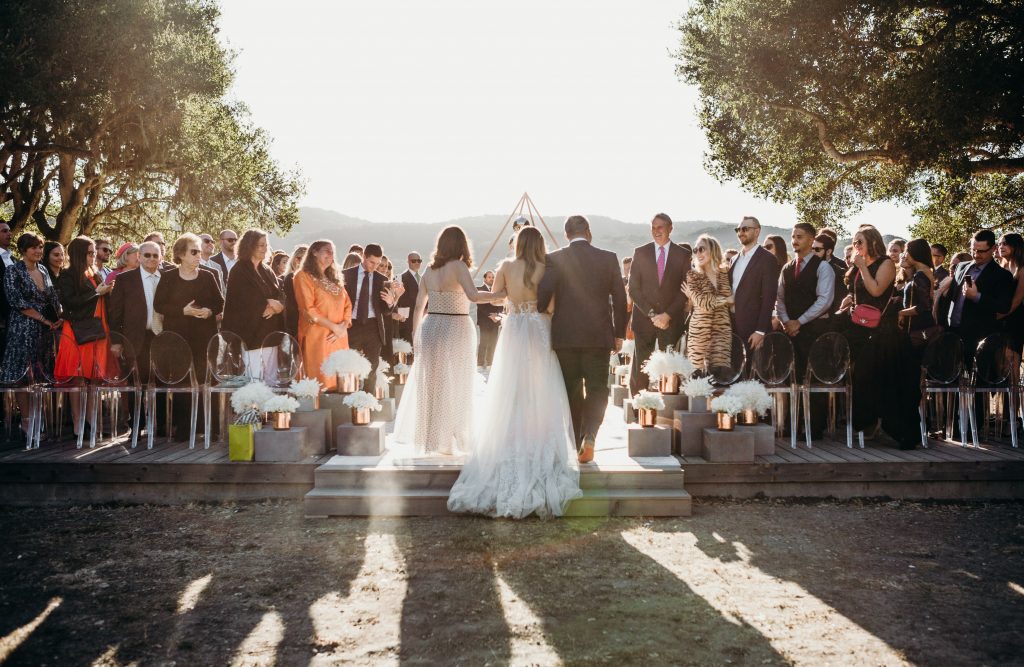 What It's Like
Matt and I arrived at the top of the mountain with our wedding party and family for photo's before the ceremony began. It was so nice to be able to take in the whole ceremony location and set up before guests arrived. I really got to appreciate how beautiful it was because no one told me that you black out walking down the aisle. I thought the music would matter so much and, the truth is, I didn't hear a single song besides what Matt walked down to. Even still, it was perfect and I can't wait to see the video so I can re-live it all over again.
The Party
The party… I try to be as honest as possible on here, so I'm going to be honest here and risk sounding negative and unappreciative. The party was a combination of both the best time of my life and also slightly disappointing. The truly had the best time at my wedding reception. The music was good, my friends were so much fun and nothing was going to bring me down on such a special day. I would be lying if I said I didn't experience some disappointment though.
The Truth
I walked into my wedding reception with the highest expectations — Thursday and Friday were the most beautiful, fun and romantic days of my life with SUCH "wow" moments. I truly don't think anyone walked away from those days not saying wow. Then I walked into my wedding ceremony which was everything I could have dreamed of. It was so magical to me and couldn't have imagined it differently. Then, I got to the ceremony and I felt underwhelmed and disappointed.
The decor and room didn't turn out how I hoped it would at all – it didn't feel the most Matt and me and was a little empty for my taste, and the bar and Photo Booth weren't able to find a way into the ballroom which I had hoped which drew a lot of people out of the room at times. Maybe it's because I had such high expectations with the unbelievable build up from previous events, but it didn't meet the mark at all.
It didn't stop me from dancing all night anyway but it was something Matt and I both noticed for sure.
The Photos
Then there was the photo's. This was probably the most important thing to me of the entire weekend. I hired someone for the entire weekend (actually multiple people) because I wanted tons of photo's. I wanted endless photo's of me, my friends and my family. Truthfully, I don't feel like I had endless ones and the ones there are I'm not in love with a large percent of. It's sad to say that but it's true. While we still have a ton, there aren't as many as we would have hoped for — and actually a lot we can't even use from our wedding of our family and bridal party because the crops are so weird.
What I Learned
Through this experience I learned a few important things.
1) Don't be afraid to feel annoying and sound controlling. Make sure you are super involved and double check everything before. If you're not absolutely in love with someone or positive you get the feel of something before, make the vendors redo it to give you a better idea.
I feel like by the time of the wedding design mock up, I had so much trust in everyone that I stopped caring as much and was like whatever you do will be amazing but that wasn't fully true. Not that it wasn't amazing but it wasn't fully what I wanted and didn't even realize that at the time.
2) Make your photographer send you an obnoxious amount of photo's of their work. Have them send you couples shots, individual shots of just the bride, just the groom, the family photo's and different configurations they've done and bridal party. I can not stress this enough. Also, be super strict about having them have someone next to them during the family photo's to go through the shot list of who you want pairings with. This portion of photo's get super overwhelming and you'll want to rush it but don't. We rushed mine and I don't have a single photo of me alone with my mom and dad together and literally only one photo to choose from of my whole family together that isn't centered properly. This is SO important.
Final Thoughts
While this post might sound like there is a lot of negative, I truly had the best day of my life and I will look back on September 15, 2018 forever and smile hugely. I did think it was important to share my experience with you guys so that hopefully if you are currently planning or if you're planning a wedding in the future, you will learn from my mistakes!
What is your experience with wedding planning? Let me know in the comments below!
Facebook,
Twitter,
Pinterest