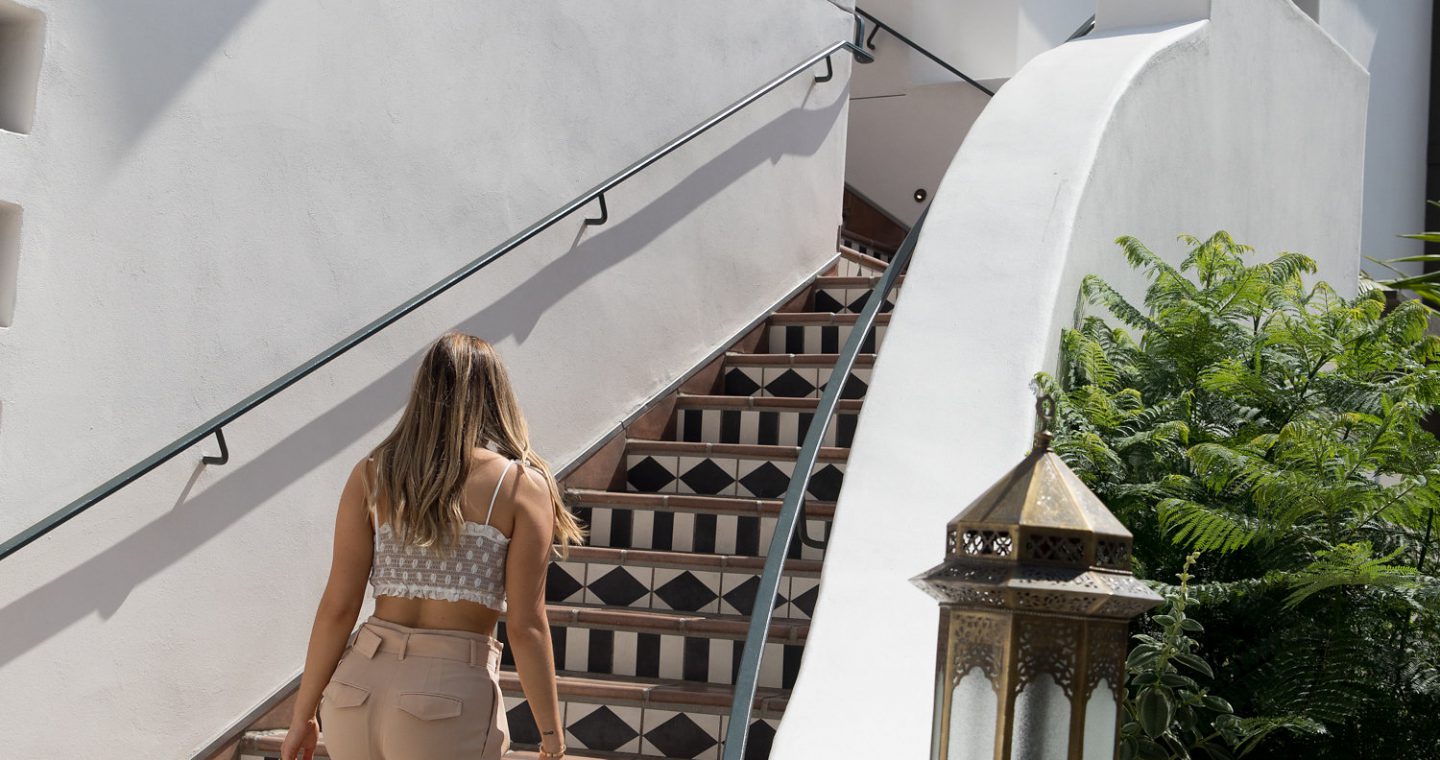 Hotel Californian Santa Barbara
Have you ever been to Santa Barbara? If not, you should definitely add it to the top of your California coast destinations list. It is a beautiful beach town, with cute little shops that are all walkable, pretty beaches and you are close to wine country. For people like me who live in Los Angeles, it is a great getaway.
I had been to Santa Barbara before and have stayed at both the Baccara and Biltmore, which I highly recommend both, but I wanted to try something new. I wanted something fun and fresh and something that felt young and fun. Insert Hotel Californian here.
About The Hotel Californian
Get to know the hotel: Hotel Californian is tucked between the Santa Ynez Mountains and the Pacific Ocean. The hotel's design is heavily influenced by Spanish Colonial Revival architecture and modern Moorish themed interior decor from celebrity designer Martyn Lawrence Bullard.
Location
The hotel is located in the new center of Santa Barbara waterfront, and it truly is in the center. It is a smaller luxury hotel with only 121 rooms and has an outdoor rooftop pool with beautiful beach views. The hotel could not be in a better location. It's steps from the beach, one block from Santa Barbara Amtrak Station and adjacent to Santa Barbara's vibrant Funk Zone. This is definitely the place to go if you are looking for something a bit more centrally located with a modern feel without compromising on the level of luxury you want or get from the Baccara and Biltmore.
The Property
After spending three days at the hotel, I feel like I can speak a lot to the property. It is so beautiful and impressive. From the decor to the expansive grounds. They own four different buildings — you are blown away the second you step onto the property. My friends and I couldn't stop talking about how beautiful this hotel was. I felt like I was in Spain all over again mixed with a little bit of what I hope Morocco to be like. If you can't tell, I was super impressed.
The Rooms
The rooms match the property exactly which is really shocking and impressive these days. So often hotels are designed to be "Instagrammable" today and then you get into your room and they are more like a motel than a hotel. The best part about this hotel is that what you see is what you get. While it is beyond photogenic, the rooms are just as beautiful and feel luxe. My sister and I stayed in a suite together and it was one of our favorite suites ever. We had a living room, dining room, 1/2 bathroom, king size bedroom and bathroom. It was so comfortable to stay in together and we had the best time.
The Food
While there are many options at the hotel for food (two restaurants – one more casual and one fancier, the rooftop and the Goat cafe across the street), I didn't find the food very impressive at all to be honest. I didn't think the food was bad at all but I wouldn't recommend going there for it. The two things I can recommend are the French fries from room service (they were actually good), the avocado toast from the rooftop pool and the iced americano with oat milk at the Goat. I had two iced americano's every day and I was not disappointed. Also, the bread for the avocado toast is really good!
The Amenities
The hotel supposedly has a beautiful spa and gym, but I didn't have to time to experience either this trip. I would definitely go back to check each of them out though. They do have really beautiful conference / event spaces and rented one of the rooms in the morning for a private hip hop class. That definitely was a highlight to my weekend and we had so much fun.
Overall, I think the hotel is amazing and I'd definitely recommend it. Since it is a newer hotel, I think they need to improve their service and, if they can, their food as well. I had the best time and thought it was so nice but the service wasn't to the level of what I'd expect a luxury hotel at that price point to be. It is definitely worth checking out the next time you are in Santa Barbara, California!
Don't forget to save enough energy to go out in the Funk Zone one night too ;).
Facebook,
Twitter,
Pinterest