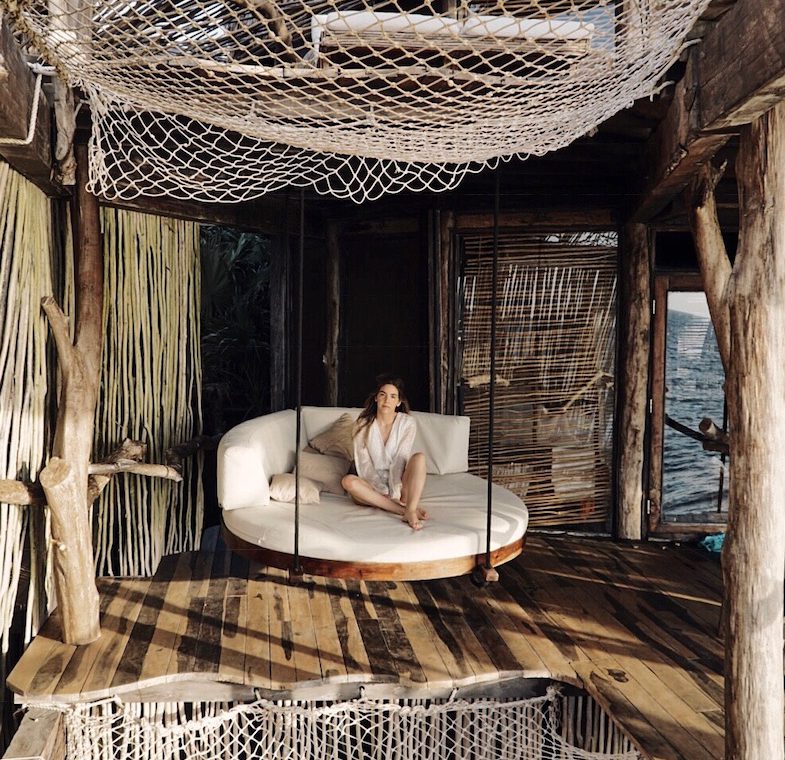 A Weekend In Tulum
If you follow me on Instagram, then you know I spent this past weekend in Tulum. I came back and couldn't get home to write this blog post quick enough. This was a destination that was at the top of my list so I was so excited to go and then be able to share my experience with you. I thought it would be helpful (and fun) to share my key takeaways with you. 1) how to pack 2) how many days to go for 3) when to go to Tulum 4) where to go and stay
Tulum Takeaway #1: How To Pack
This is probably my most frequently asked question amongst my online family and friends and real life family and friends. Everyone wants to know how I pack and what to pack. I started getting this question even more after my 16 day trip to Europe last Summer. I wrote a blog post on my general packing tips but thought I'd break down a 3 day guide for you here.
Tip #1: Invest In A Quality Bag
My personal favorite at the moment is Tumi. It's actually always been my favorite. It holds a lot and has a soft exterior so that it fits in pretty much any overhead bin on an airplane. For a not carry on bag, I am a big fan of Rimowa luggage. I love the hard case and how durable it is. It really holds up, with the exception of a few scratches, even after getting beat around in baggage claim. While both of these suitcases are expensive, they are so worth it because you'll never have to replace them.
Tip #2: Repurpose Items
Figuring out how to be able to wear one item multiple ways is a great way to save space in your luggage, get creative and be able to have more options than if you only wear each item once. I love brining separates so that I can wear each item multiple ways, and for beach vacations like Tulum, I love packing lightweight dresses.
Tip #3: Roll Your Clothes
This was something that changed everything when I learned about it. Rolling your clothes not only saves space that you can fit more, but it also can help prevent bad wrinkles in your clothes because there are no hard line folds.
Tip #4: Pack Your Accessories Smartly
Being strategic with how to pack your accessories can both help save space and help your items from getting ruined. Bringing a hat? Try packing your underwear or bathing suits in it to save the shape from getting ruined. Packing a purse? Try putting your sunglasses in there to save them breaking or getting scratched. Have any item that you worry about ruining the shape, throw your bathing suits inside! It saves space and saves the shape of each item.
Tulum Takeaway #2: How Many Days Should I Go For?
Matt and I both felt like a 3 day weekend in Tulum is more than enough. While there is so much to see, the town is fairly small and it is really easy to get around to mostly everything in just a few days. I'd recommend either renting a car or a bike so that you can easily go around from place to place.
Tulum Takeaway #3: When Should I Visit?
This is something I wish someone had told us before we went. No matter who I spoke to, or what blogs I read, no one told me when to visit. Now having gone in July, I will tell you absolutely do NOT go to Tulum in July. If you talk to any locals, they will tell you it is the worst time of year to visit. It is beyond hot and humid, the water has an insane amount of seaweed so you can't swim to cool down and there are aggressive mosquitos everywhere. If we're being honest, which I always like to be with you here, we were miserable and had a hard time enjoying our trip because of this. I'd recommend visiting Tulum from October – December. It is supposedly not too hot this time of year and hurricane season is over.
Tulum Takeaway #4: Where Should I Stay And What Should I Visit?
My general answer to this, is there is endless places to stay and endless places to visit. There is so much in Tulum. Keep reading for a detailed breakdown.
My Honest Review Of Where To Stay
There are so many hotels in Tulum now that it can be a bit overwhelming to know where to stay. The answer to this question is also kind of loaded because it is so personal. Before going into where specifically to stay, I'd recommend using Hotel Tonight to book your vacation. Matt and I used them for the first time and they honestly made it so easy for us. They handled everything, gave feedback on resorts and made it so easy, especially since we booked pretty last minute. Also, I found people in Tulum to not speak that great of English so it was nice having Hotel Tonight book our stay instead of us having to communicate with the hotel ourselves.
Now, to further my answer and for it all to make a bit more sense… because we booked last minute, we were limited as to where we could stay. One of the places that was recommended to us was to stay at Azulik Hotel. While it was not for me, I'd definitely still recommend it to someone (depending on what they said they were looking for) and I can see why it has such a great reputation. This is what I wish I knew before I went: there is no air conditioning, no electricity, no WiFi, clothing optional, no showers, and while the rooms are super cool and a tree house, they are pretty see through so there isn't much privacy. It is a very cool and unique experience that I am glad I saw but it was not my personal taste.
Where I Would Stay:
If I go to Tulum again I will most likely stay at La Zebra Hotel. The hotel looks incredible, I hear great things, and it feels a bit more luxe and what I look for in a resort. This can also be booked through Hotel Tonight. I cannot stress how easy it is to use and navigate their app that you won't want to book your stay any other way.
What Should I Visit?
There are so many places to go and things to see in Tulum! The great part is everything is fairly close to each other so you can accomplish a lot in a little bit of time. I didn't get to go everything I wanted to but these are the places I went and some places I didn't go but that are on my list for next time that friends recommended.
There is so much more to see, eat and do than this but these are the top 7 things I recommend so far!
Have you been to Tulum, Mexico before? If so, I'd love to hear your experience in the comments below!
#myhoteltonight #letshaveathreeday

Facebook,
Twitter,
Pinterest