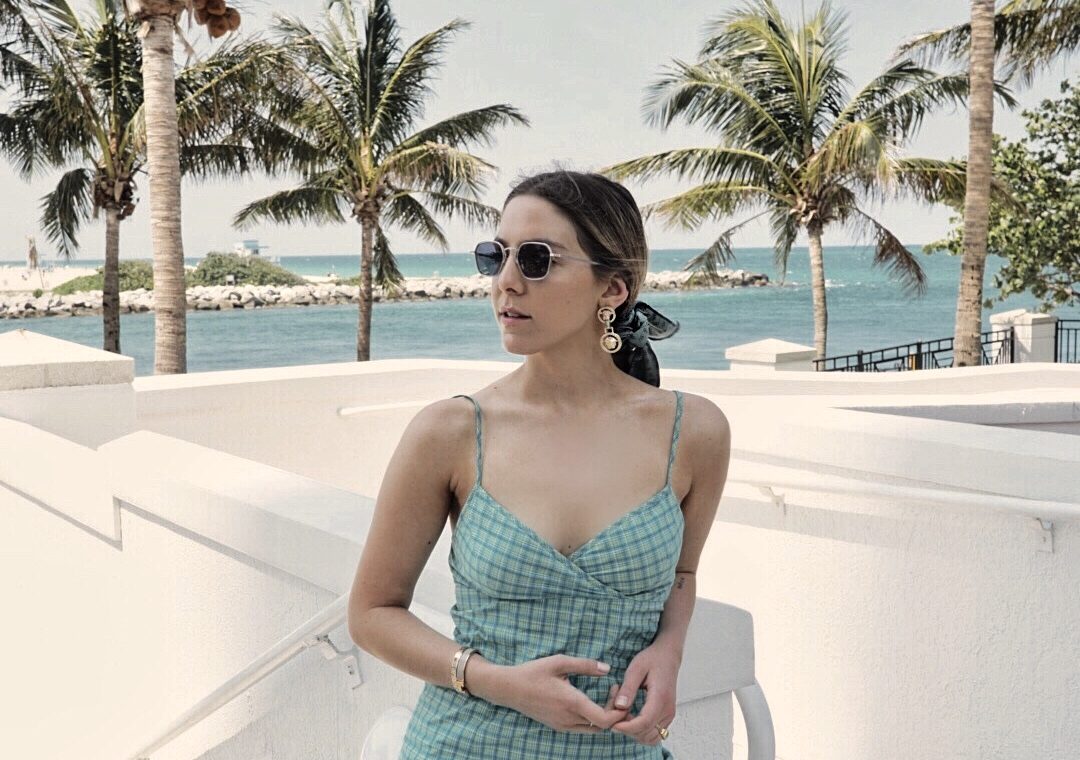 Last week I had the honor of being hosted by the Ritz Carlton Hotels in Miami Beach. I hadn't been to Miami in almost 10 years so felt like it was an appropriate time to go back. Now that I went back and stayed in multiple Ritz Carlton locations, I thought I'd give you a review. While there are many amazing hotels in Miami, I wanted to stay somewhere I knew would be a safe choice for my first trip back and I wanted the opportunity to explore many parts of Miami Beach, Florida for the duration of my stay. Keeping that in mind, the Ritz Carlton was a great option. They have three locations in Miami Beach: Key Biscayne, Bal Harbour on Collins Avenue, and South Beach on Lincoln Road.
While there were many highlights of the trip, I wanted to break it down to a few of my favorites. Starting with the hotel, I wanted to share my experience with the rooms, the room service (because obviously), and the amenities. Furthermore, I wanted to talk about Miami in general and what I think you'll want to do / see.
Overall, I was super impressed with my stay. Prior to arrival, they had me fill out a questionnaire of my favorite drink, candy, color, allergies etc and when I arrived along with a note, they had it all waiting for me. Little touches like this go a long way.
The Rooms
While I personally didn't stay at the Ritz Carlton South Beach, I have heard great things. It is centrally located (probably the best out of the three) and they rooms are supposed to be nice. I did stay at the Key Biscayne location and Bal Harbour, though. I thought the rooms at Key Biscayne were nice but in a normal way. They were clean and what you would expect from a standard hotel room. They weren't not nice but not necessarily impressive. Had I not gone to Bal Harbour, I maybe wouldn't be saying that though. When I arrived at Bal Harbour, I was blown away. I walked into an ocean front room, greeted by an assortment of sour candy (which I love), a voice message from the manager of the hotel, two queen sized super comfy beds, a floating bathtub and a shower that both overlook the ocean.
Room Service
We ordered room service at both Key Biscayne and Bal Harbour and I was impressed. The breakfast spread was good and the dinner was even better. They had lots of options for dinner and were super timely and accommodating with making us whatever we would like. For breakfast we ordered a huge spread of eggs, pancakes, pastries and coffee so that we could try a little bit of all and dinner we had chips and guacamole, which I highly recommend, a burger, chicken and vegetables and a warm chocolate chip cookie for dessert. I know…it's a lot but we obviously had to try it all to make sure it was good for you too!
Amenities
The hotel offers many great amenities but what stood out to me the most was their gym that overlooks their outdoor pool and the beach. It was super inspiring to work out there and you felt like you were outside, except with air conditioning. I was so inspired while I was there that I ran two miles (which is a lot for me). They also have a spa which offers so many great fitness classes (like HIIT cardio classes, bar classes, and yoga), along with endless spa treatments. Lastly, I was impressed with how beautifully designed the inside of the restaurant and bar was and the food was great. I got tuna poke as my entree and it was so good! The overall aesthetic of the Bal Harbour hotel feels super luxe and classic with some modern touches to it.
Things To Do In Miami
I was actually surprised by this — I'm not sure why — but there are so many different sides to Miami. There is South Beach, which definitely is the part where you wine, dine and dance. There are so many restaurants, hotels and places to go out. It is more of a going out scene. But there are also other areas like the arts district which has endless cute cafe's and nice shopping and then there's another area that I feel like has a different fitness studio on every corner. I always thought of Miami Beach as strictly a party city but didn't realize how into food, health and fitness they were also. While I don't have any club suggestions, I have plenty of suggestions for during the day.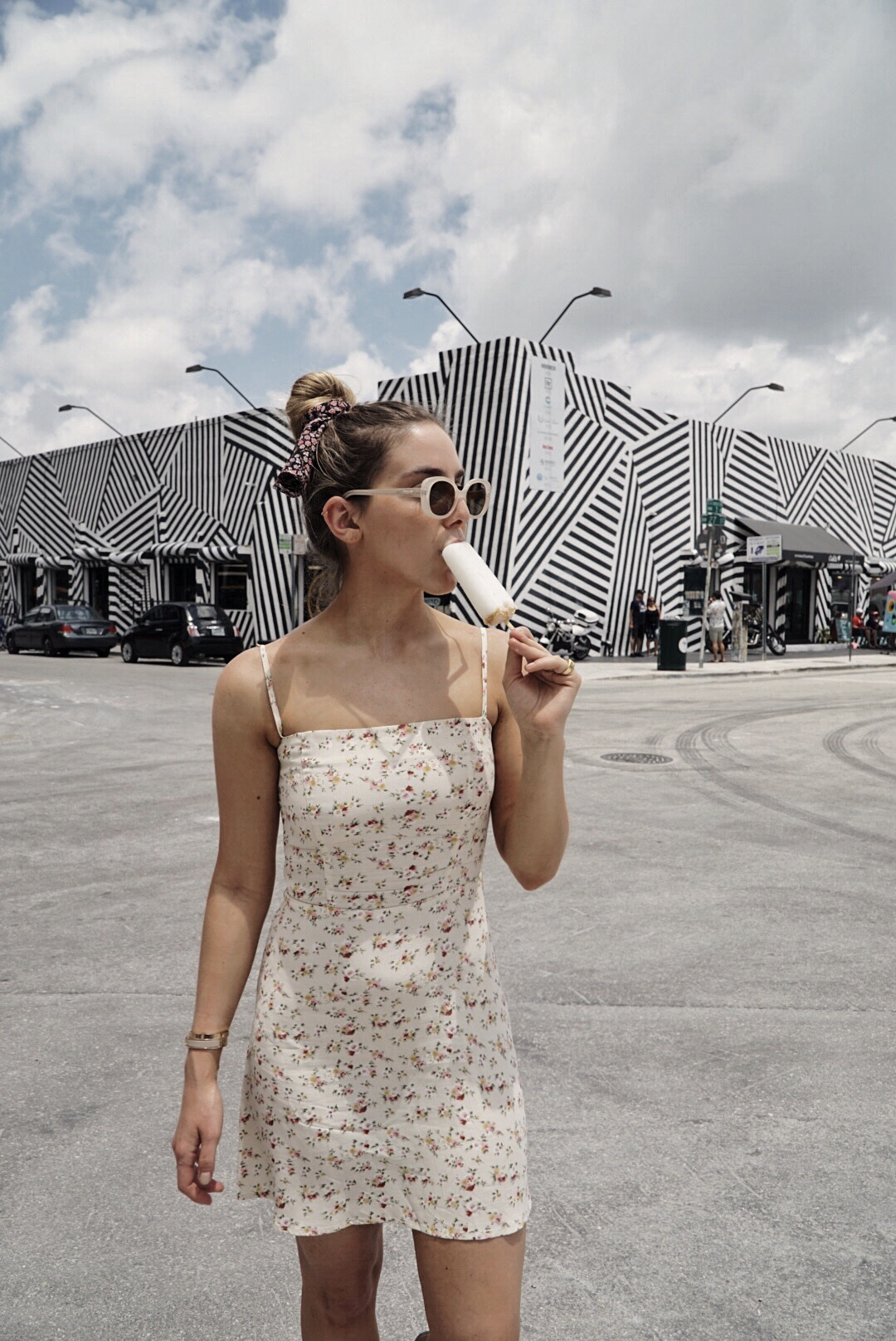 What To Do #1• Visit Wynwood
Wynwood is an interesting part of town and definitely worth visiting! It is most famously known on Instagram for their art walls and it can most similarly be compared to (if you're familiar with Los Angeles) to Venice. They are big on honoring and embracing street artists, and is filled with restaurants and breweries. It was so hot so I stopped at Cielito Artisan Pops for a coconut popsicle and it was so good!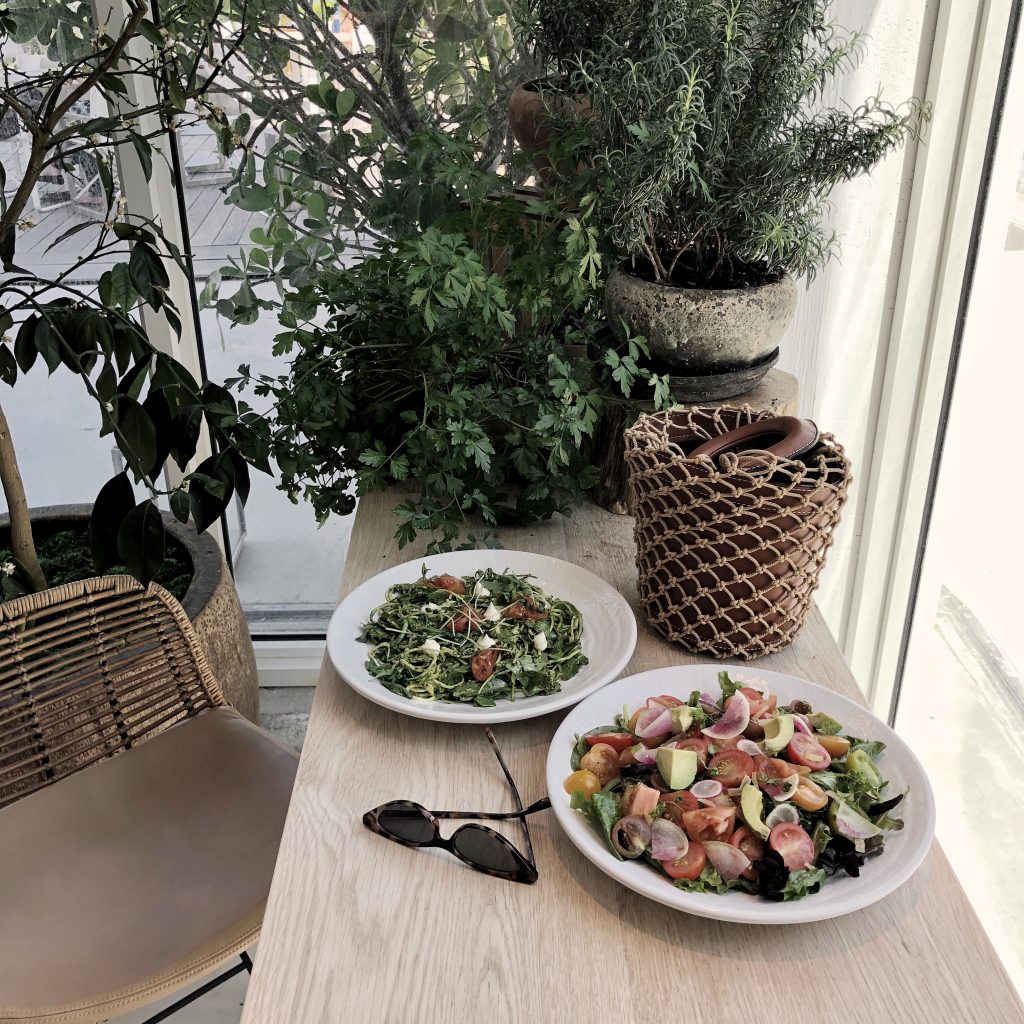 What To Do #2• Go To 1 South Beach
The 1 Hotel South Beach may be one of the most beautiful to me. It is definitely trendier and I wouldn't go as a family but if you are single, I definitely recommend it. The service is AMAZING even if you're not staying there, which says a lot, and they have a beautiful outdoor pool and great restaurants. I had one of my favorite salads there for lunch one day. I highly recommend this and would definitely stay at this hotel too!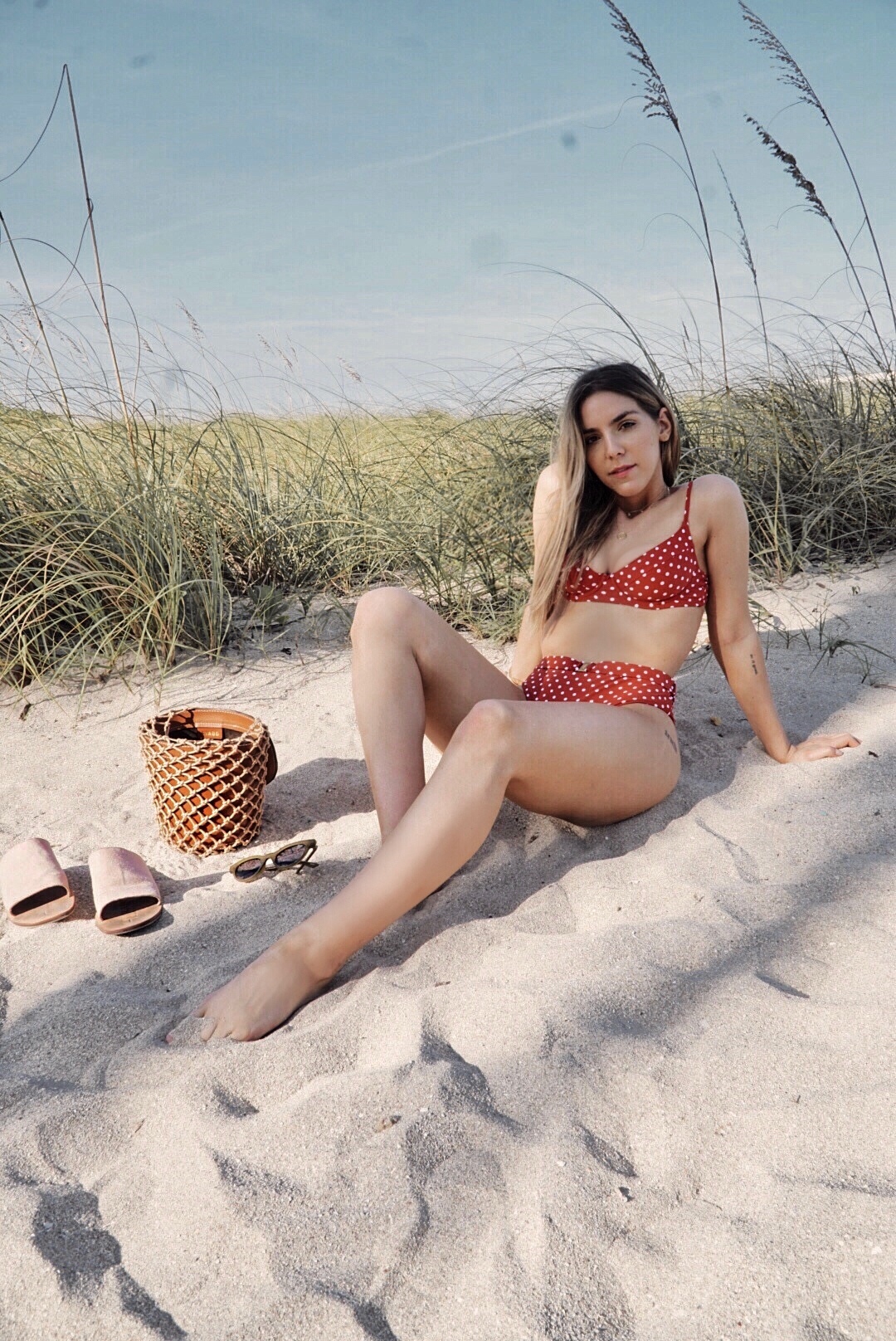 What To Do #3•Go To The Beach at South Beach
Trust me on this one! You will want to go to the beach. The beaches are white and soft and the water is warm and stays shallow for a long time…at least compared to Los Angeles beaches. This time of year there is more seaweed than usual but it is still so nice! Most hotels or day clubs are open to the public, as long as you pay a fee for your chair or cabana. It is worth it though!
What To Do #4•Try A Work Out Class
If you're into fitness, I'd recommend checking out some of the fitness classes in Miami because there are A LOT and there are some good ones. I personally took a class at Flywheel and it was fun to check out the fitness community in Miami. We have a Flywheel in Los Angeles but it's a much different crowd at the Miami location. I actually preferred the vibe of the Miami one. I also heard that JetSet Pilates is a must but I didn't get around to trying it unfortunately!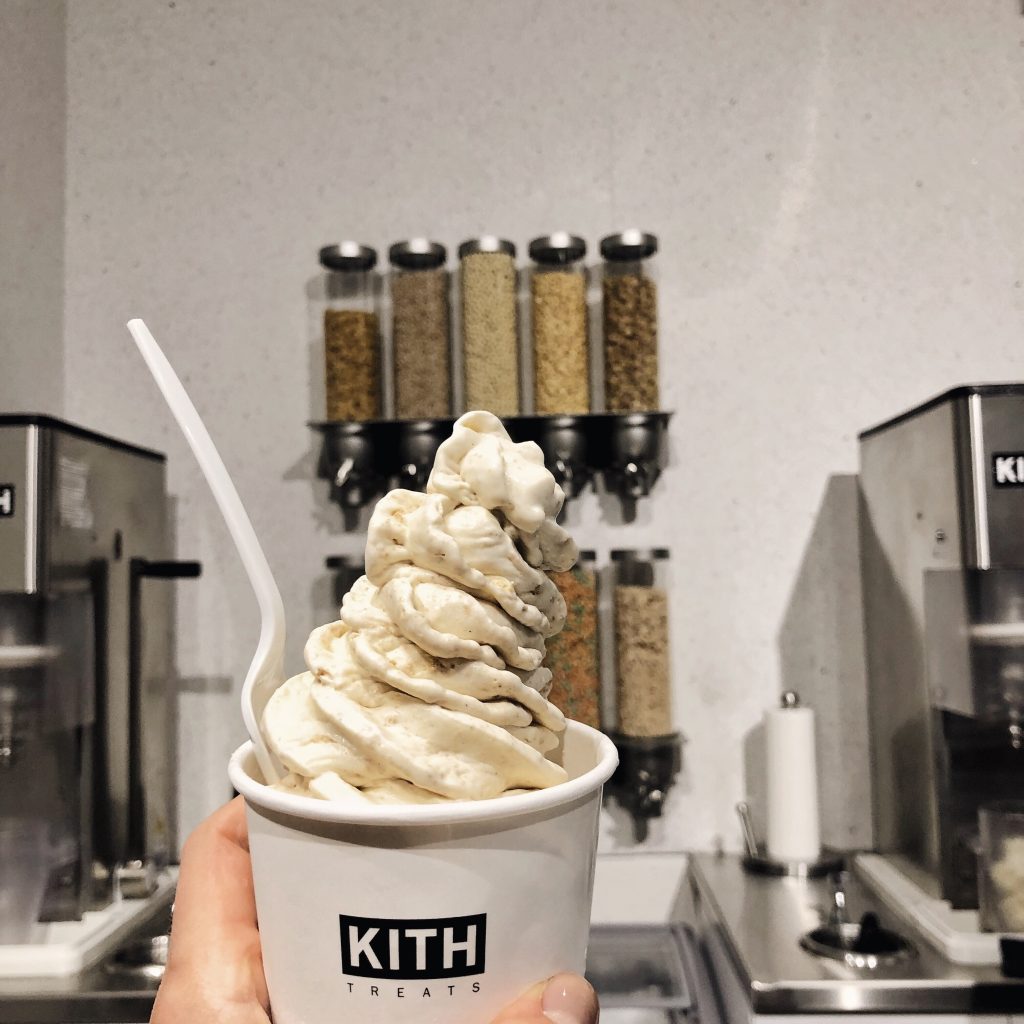 What To Do #5•Go To Kith For Ice Cream
Kith is actually a high end streetwear store based in Los Angeles, New York and Miami but they have AMAZING ice cream. They keep it super simple. They have three flavors: vanilla, chocolate and a diary free coconut flavor. You can also mix in any type of topping you want and as many as you want and it is blended together. It is honestly so good and worth the wait, if they have one!
Overall, I had an a great experience in Miami. I don't think it is somewhere that I would need to spend more than a few days at but I liked it for what it was and the amount of time I was there for. What do you think of Miami? Have you been? If so, let me know what your favorite places are in the comments below so I can be sure to check it out my next time there! Lastly, I highly recommend flying Delta if you are coming from Los Angeles to Miami. They have the nicest flight attendants, so many flight options and my flight was super cheap! This isn't sponsored in any way, I just truly loved my Delta experience to Miami. If you're anything like me, flights can really effect your trip!
Facebook,
Twitter,
Pinterest