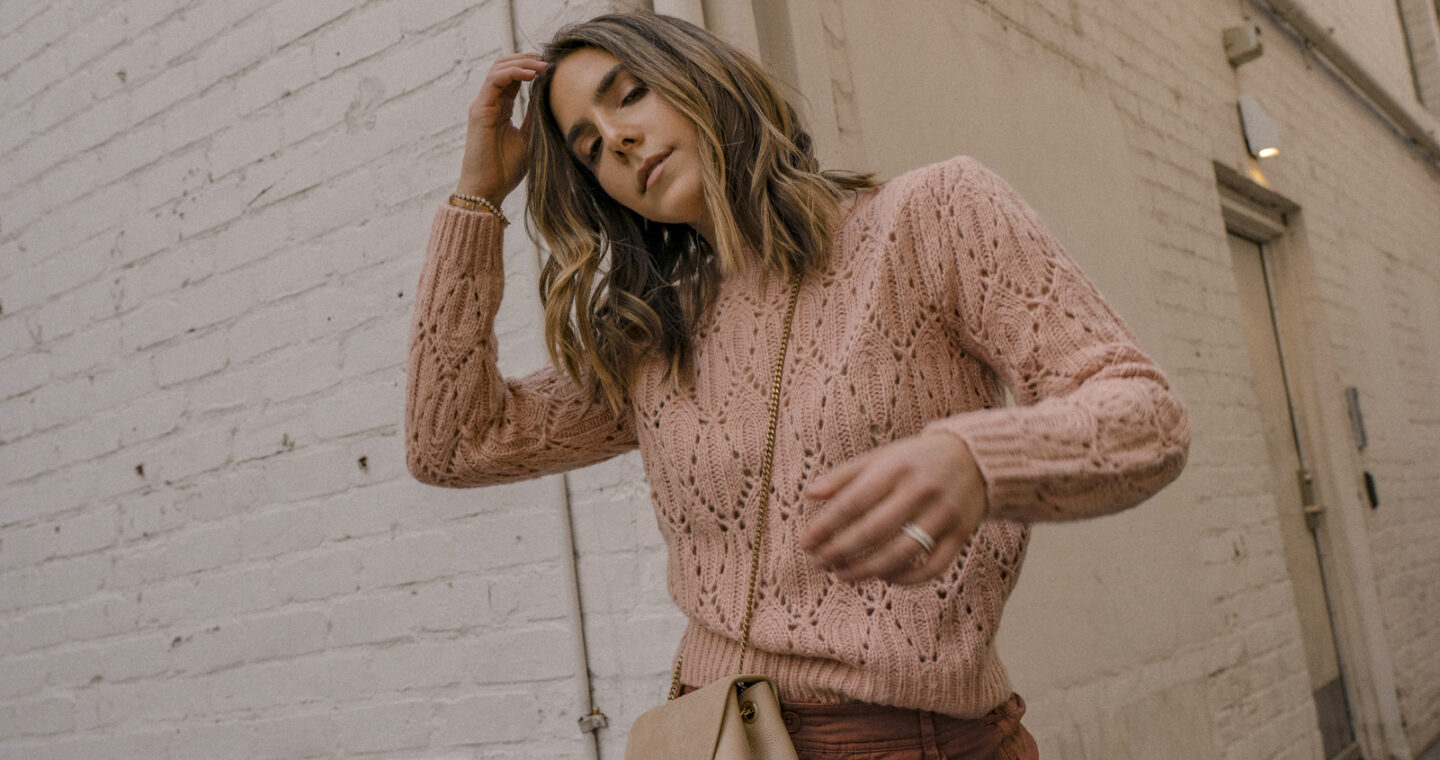 What if I said I found a way that you can maximize your time in your cozy bed this winter. A bold claim, but a rather brilliant concept. For obvious reasons, you'd rather be wrapped up in bed, which means cutting down the time it takes to get ready each morning. My solution, the ultimate winter capsule wardrobe. You may ask, will I have to forgo style? To do this, I've narrowed eight essentials, basics–whatever you want to call them–that I know I can wear on repeat to create an unshakeable winter capsule collection. Want to see? Keep scrolling to see how I've created my ideal winter capsule wardrobe.
#1: A Cashmere Knit
Style Note: Cashmere may be an investment but it's something that you can wear ALL winter long for years to come. And, if there's one thing I've learned it's that cashmere does not need to be dry cleaned! Just put your knits into a pillowcase and a cold wash, it will do the trick!

#2: The Classic Camel Coat
Style Note: This will likely be your biggest splurge, but a winter coat that you will love is always a good idea–just remember cost per wear when you're purchasing.

#3: A Stacked Boot
Style Note: A good boot should do three things: 1) Keep your feet warm, 2) Withstand wintery conditions and 3) Be stylish. Even the savviest dressers are wearing these retro-inspired stacked styles this winter.

#4: A Versatile Crossbody
Style Note: A cold-weather essential because they require no holding! A great crossbody ticks off every winter capsule box so you can keep your hands warm. Just make sure to grab an ultra-versatile style that goes with your existing closet.

#5: The Blazer
Style Note: The lines between on-and-off duty have been officially blurred and this transitional piece is quintessential in any seasonal wardrobe. Worn day or night, you could even opt for a wool piece here to add another layer of heat.

#6: Minimal Denim
Style Note: Minimal effort with maximum impact, it all comes down to a good pair of denim. Retro-inspired jeans are universally flattering and pair perfectly with knits.

#7: Blanket Scarf
Style Note: There's are many styles to choose from when it comes to scarves, but the bigger the better applies here.

#8: High Neck Dress
Style Note: For every holiday gathering and for the days that you'd rather skip denim, high neckline dresses will keep the chill out.

Facebook,
Twitter,
Pinterest