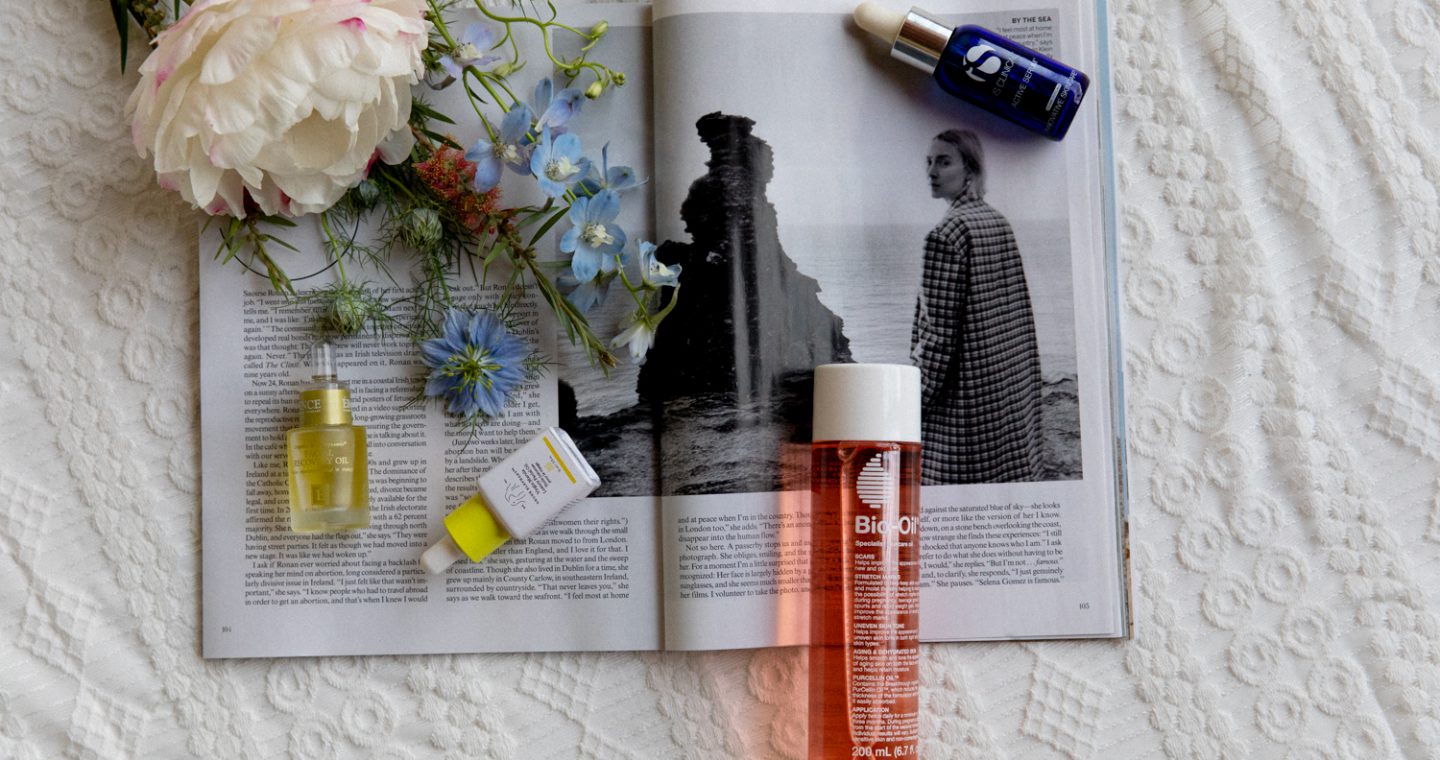 Skincare Favorites
Some would say I'm a beauty junkie. I call it self care. These days we have too much science and research that proves how important it is to take care of ourselves from both the inside out, but also the outside in. We know the effects of what sun does, dehydration, and so many other things. We know so much, so now we need to know what do about it. The latest thing that I've added into my skincare routine is face oils. I am so obsessed with it that I have tried a fair amount of them and tested them for a little while to see which really work. I listened to people's recommendations and tried based on that. Later on you'll see what my favorites are and what I've actually seen a different in my skin with. But first, let's talk the benefits of face oils.
Benefits Of Using Face Oils
Contrary to most people's initial belief's — like mine — face oils can actually help clear your pores, reduce inflammation and irritation. It is also great for ultra dry skin. The great thing about face oils is that there are so many great ones and they work for lots of different purposes. The five main differences I've personally seen in my skin are:
Oil control
Glow-y, refreshed looking skin
More hydrated skin
Heals skin faster from any damage
Softened the appearance of sun spots under my eye.
Favorite Face Oils
I have tried a few face oils recently and have narrowed it down to five different face oils that work. Well, actually it's four oils and one serum but I swear by the serum. If you haven't already, read my blog post on face serums that work now where I included the active serum.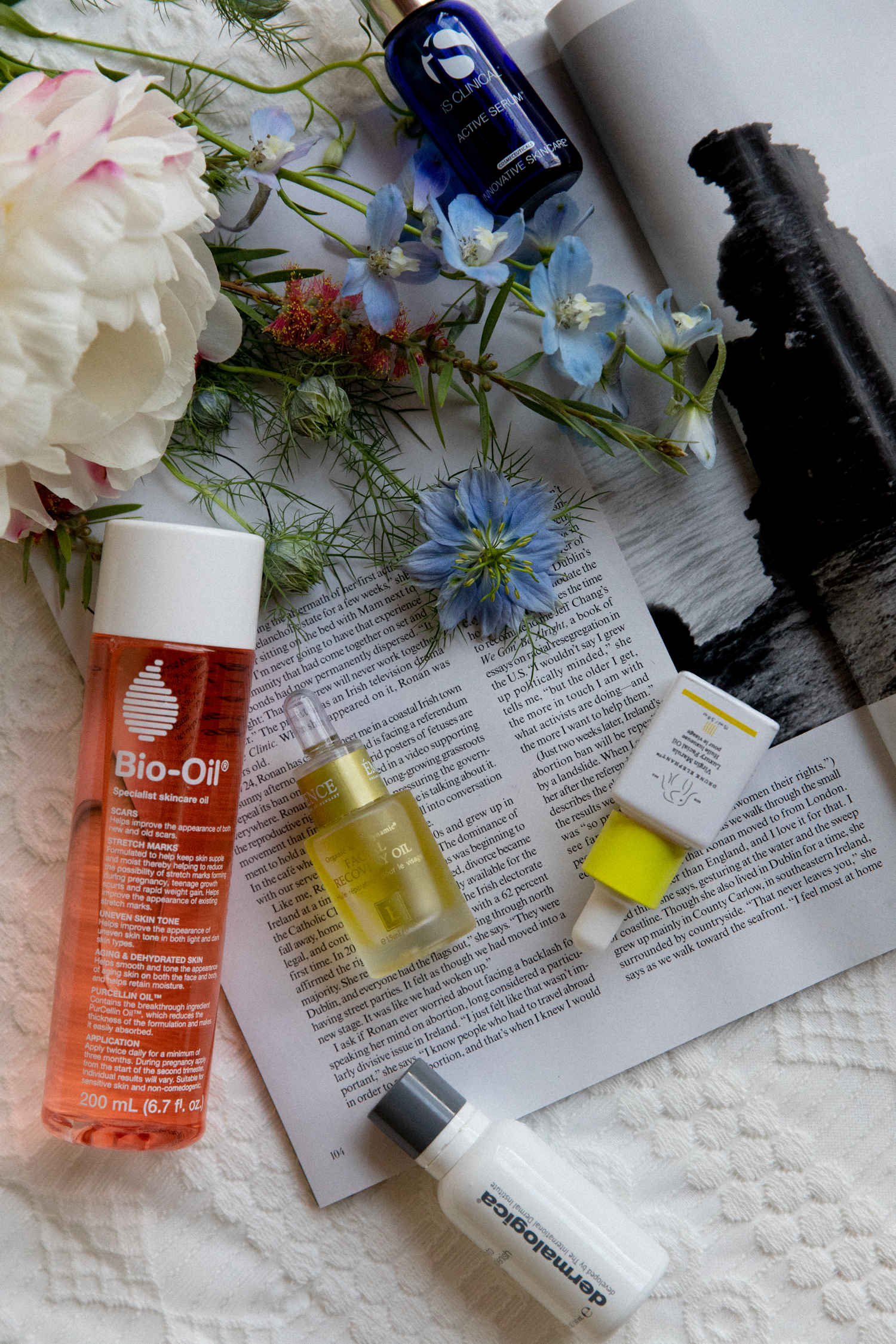 Oil #1•Dermalogica Phyto Replenish Oil
As you may already know if you read my blog weekly, then you know I am a big fan of Dermalogica. I recently did a post on their Pre Cleanse. Dermalogica is great for sensitive skin and super trust worthy because it is tested by a dermatologist before going into production. This oil is great for adding a protective barrier to skin and adding a dewy look to your face. This is a great option for normal to dry skin.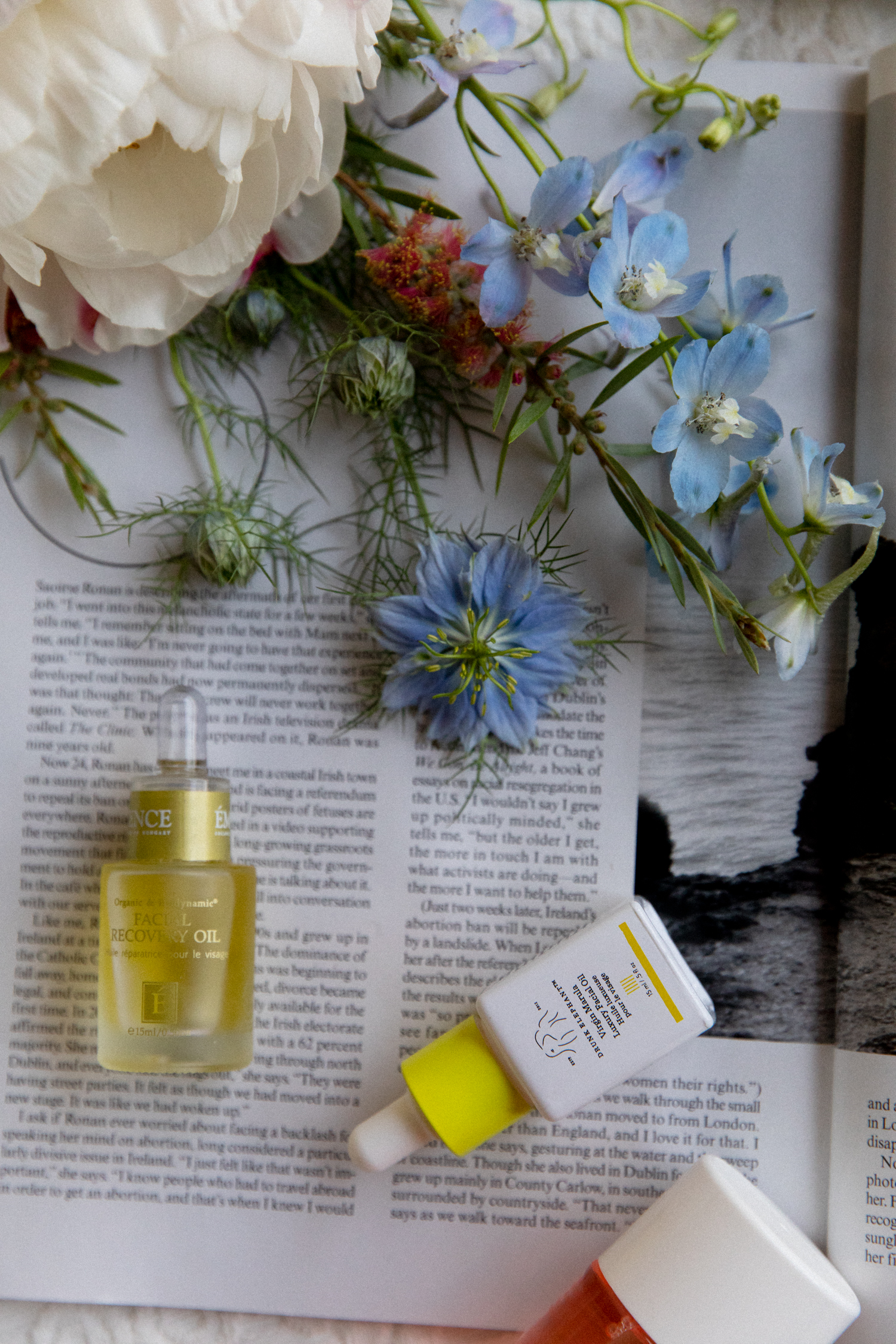 Oil #2•Eminence Recovery Oil
All natural skincare brand, Eminence, refers to their recovery oil as liquid gold. Why? It helps with so much. They claim to be able to assist in treating: puffy eyes / crows feet, red or uneven skin tone in cheeks, chapped lips, signs of aging on your neck, dry cuticles, surgical scars and stretch marks. Sounds pretty golden to me too!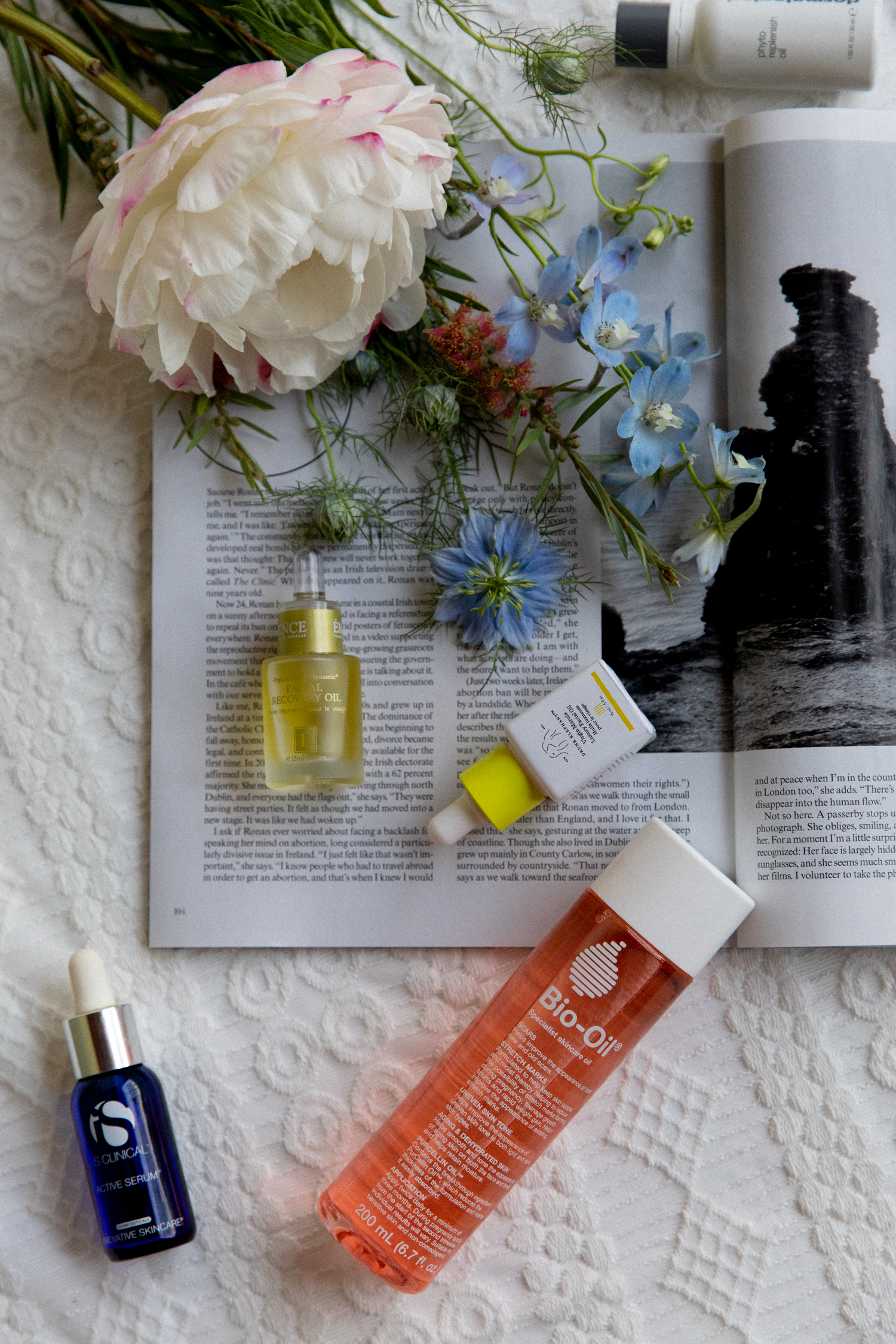 Oil #3•Drunk Elephant Virgin Marula Luxury Facial Oil
Drunk Elephant's facial oil is formulated to rejuvenate and nourish skin while restoring a youthful glow. When using it consistently, you should start to see improvement in fine lines and your skin's elasticity. While I'm not sure if it works for me for that, because I don't have such mature skin yet, I do think my skin feels really soft and bouncy (weird word to describe your skin but I swear) when I have it on. Sadly I can't speak highly of the entire line even though I know most people do. Last week I tried their exfoliating mask and had a major allergic reaction to it that I am still struggling to recover from. My entire face peeled off and then broke out in an itchy rash. I do have sensitive skin though so this might just be my skin's reaction to the product!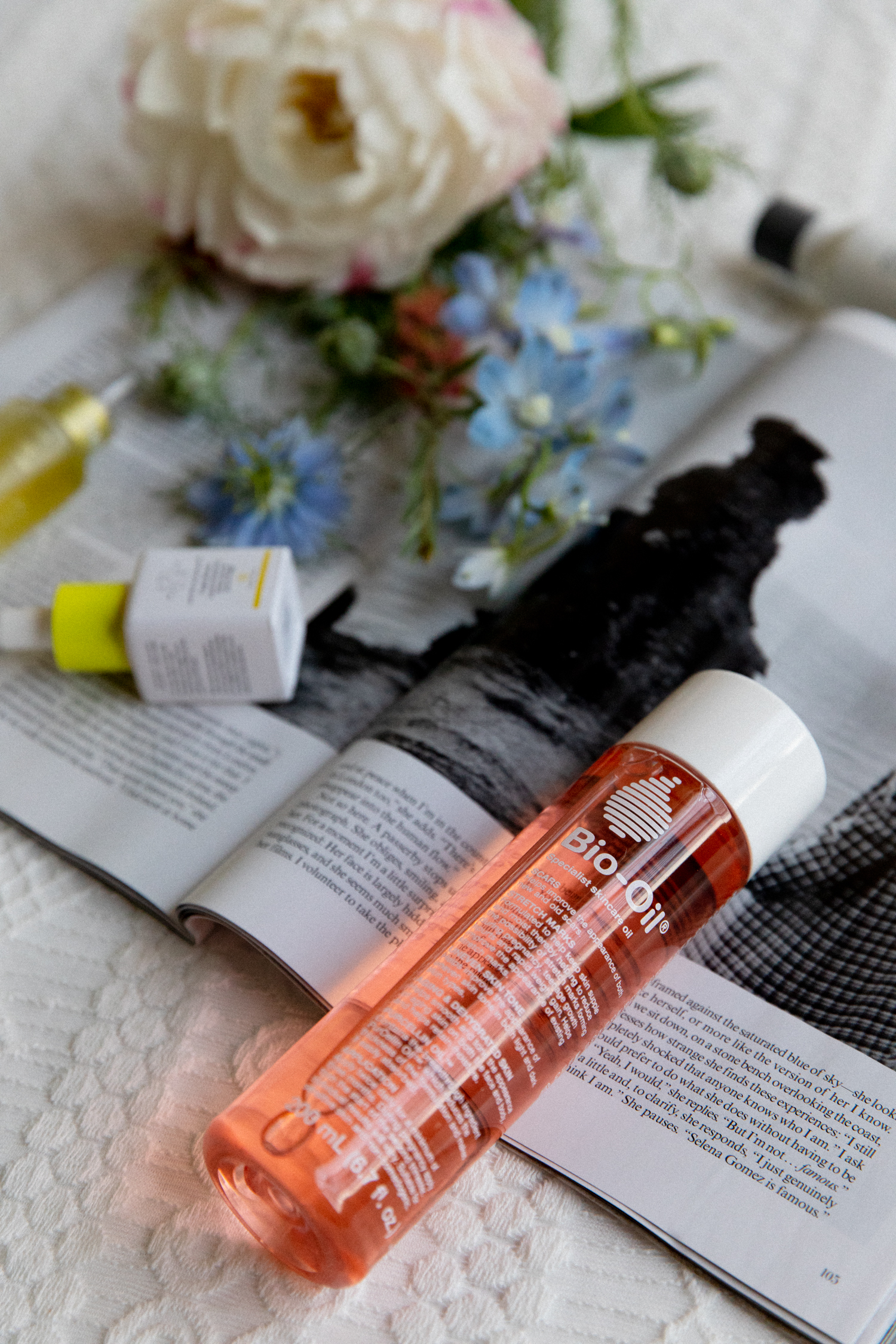 Oil #4•Bio Oil
Bio Oil Intro and Testament
I was first introduced to Bio Oil in February when I got back from a trip to Turks and Caicos and was left with mosquito bite scars as my souvenir and wanted to fade them quickly. After that, I saw the results and decided it didn't hurt to test the oil out on my face. My skin was feeling dehydrated and I have desperately been trying to fade my sun spots on the left side of my face. They bother me so much but I've been too scared to try a laser. I can honestly say that this has worked to fade my sun spots more than anything else! They're not perfect yet but they are so much better. I'll take what I can get!
Do you use face oils? If so, which ones? I'm determined to try them all and find the best ones that have visible results!
Facebook,
Twitter,
Pinterest